NOTE: To keep this page from becoming too long and cumbersome to load, some of the graphic subject headings are hyperlinked, taking you to yet another page.



Clark, Benjamin Clarence, Barnabus and Martha Howell of Darlington County, South Carolina and Some Descendants. Santa Ana, CA: B.C. Clark, c1985. [LoC Call No.: CS71.H858 1985a]

Donnelly, Thomas H., A genealogy of the family of Richard Howell of Mattituck, Southold Town, Long Island, New York, to seven generations. Bowie, MD: Heritage Books, 2000. [LoC Call No.: CS71.H858 2000b]

Flora, Stephenie L., Howell Prairie Cemetery. Salem, OR: S.L. Flora, c1988. [LoC Call No.: F882.M3F58 1988]

George, Elizabeth "Betty" Howell, Howell Genealogy and History. Fort Valley, GA: B.H. George, 1988. [LoC Call No.: CS71.H858 1988]

Howell, Frances Godwin, The Early Howells of Wayne County, North Carolina: Henry Howell, his descendants, and some allied lines. Goldsboro, N.C.: F.G. Howell, c1991. [LoC Call No.: CS71.H858 1991]

Howell, Joan, Howell Family: table of descendants, 1841-1983. Clive, NZ: J. Howell, 1983. [LoC Call No.: CS2179.H68 1983]

Spiron, Mary E., Wilkerson and Howell with Allied Lines. Goldsboro, NC: M.E. Spiron, 1997. [LoC Call No.: CS71.W6788 1997]

Tayloe, Margaret Howell, Howell: One Southern U.S. Family: Joseph Howell of Concord, N.C., his descendants and some related families. Tappahannock, VA: Margaret Howell Tayloe, 1989. [LoC Call No.: CS71.H858 1989]

Tracy, Darlene Howell, Judy Pfeifer Michaels and Joel Chan Edmondson, Howell: VA, TN, TX. Sunnyvale, CA: D.H. Tracy, J.P. Michaels, and J.C. Edmondson, 1997. [LoC Call No.: CS71.H858 1997]



Howell Family Home - tracing the history and migration of the Raleigh Howell family in Franklin County, GA (1796 to about 1805), Allen County, KY (from about 1805), Lincoln County, MO (from 1827), Pratt, Doniphan, Ness, and Chautauqua Counties, KS (from about 1884).

Edwards & Wagner Genealogy - presenting Howell Cemetery, Cobb County, GA; a map of the Howell homestead as it looked in 1916; and John Howell's Place, featuring the descendants of John Howell of England, Wight County, VA and NC.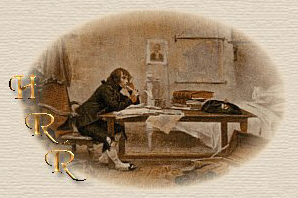 Home | Family Histories | Vital Records | Life's Paper Trail | Resources
Forum | Join Us | Guestbook | Awards | Contact
All writing and concepts are copyright © 2001
with ownership belonging to original submitters of the Howell Research Room.
All rights reserved.